Hello, I'm Yuki.
I'll write about impression of using Kindle.
I would appreciate if this blog will be helpful to whom considering to buy Kindle.
My husband posted overseas is the reason why I bought Kindle.
I could buy Japanese books at overseas, but it cost 1.5 times more than I buy books in Japan.
On the other hand, ebooks are cheaper than paper books and able to buy at anywhere.
The picture is Kindle which I bought.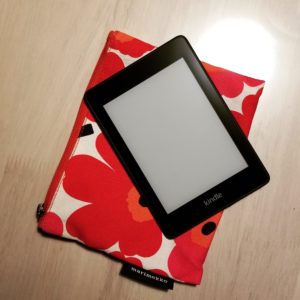 This is the Amazon web site.
I will introduce the impression and valuable information of Kindle from now.
What is Kindle?
Kindle is a tablet for reading ebooks. ebooks could download from Kindle application.
Good Points of Kindle
Easy to carry
Kindle is lighter than cell phone and easy to handle. I go to work with messenger bag after I bought Kindle. Maybe it's smaller than lunch box bag. Also Kindle battery last long, so I don't need to charge for 2 weeks even I use everyday.
Easy to eyes
Blue light doesn't come from Kindle, so it's easy to our eyes. Kindle light don't become darker in sunlight and battery last long. If the room is dark, you can adjust the back light of Kindle to your taste.
Can buy and read any time
You don't need to go to bookstore and could start reading immediately after you download ebooks.
Don't need to be worried to choose books
Maybe you don't have idea which books to read next, if you don't read books usually. Kindle doing ebooks sales frequently, so you could choose from it. Also, if you buy some ebooks, Kindle recommends ebooks to you.
Cheaper than new paper books
ebooks are cheaper than new paper books. You may buy 50% to 80% off when Kindle having a sale.
Have dictionary function
If you keep pressing a word, the dictionary function will be on the screen. The good point is that this dictionary don't need Wi-Fi. Dictionary shows pronunciation and meaning of Kanji. I read English books so I use to search words frequently.
Bad Points of Kindle
Used books may cheaper than ebooks
Some used books are cheaper than ebooks. There was a ebook costs 400 yen, on the other hand used book costs 100 yen. Used books can sell at flea market, so it may be a deal than ebooks.
Comic and magazine are hard to find specific page
Like novel and self-help books could search a word with Kindle, but book which has many pictures can't search a word.
Only displays black and white
Kindle could not display color. It is unsuitable to read colored magazines.
Needs Wi-Fi
Kindle needs Wi-Fi to download ebooks. So if you don't have Wi-Fi at your home, I don't recommend Kindle.
To Use Kindle More Valuable
Use Prime Reading
If you are member of Amazon Prime, I recommend to use Prime Reading. Prime Reading can read about 900 ebooks free.
Use Owners' Library
If you are member of Amazon Prime and bought a Kindle tablet, you could use "Kindle Owners' Library". You can read 1 ebook free from the list of "Kindle Owners' Library". It is an old service, so it is hard to search a list.
How to search "Kindle Owners' Library" with Kindle tablet
Click the "store" on home display.
Type "プライム対象" at search window.
Then you could see the list of "Kindle owners' Library". If you want to narrow down the list, click "絞り込み▼" of type "プライム対象 xxx" at search window.
Buy ebooks while Kindle having a sale
Kindle having a lots of sale.
I check this web site to see what kind of sale does Kindle doing now.
Kindle starts a sale usually on Friday.
Add ebooks to "Your Reading List"
If you add ebooks to "Your Reading List" of Amazon, Amazon will tell you how much price does it discounted from you add ebooks to the list.
Valuable Time to Buy Kindle
Kindle could buy from Amazon web site.
From the information of 2019, Amazon is having a sale about 9 times a year. Kindle will be discounted 2000 to 6000 yen. I recommend you to wait until the sale starts, if you are not in a hurry.
About advertisement on Kindle
You could choose to display advertisement or not when you buy Kindle. Advertisement will display when you powered on or waking up from sleep mode. My Kindle don't have advertisement, but it takes about 3 seconds to wake up from sleep mode. So it may be annoying if have advertisement.
Capacity of Kindle
I downloaded 26 ebooks(most books are novel and self-help book) to Kindle, but it's just 6GB. ebooks can move to cloud service, so I recommend 8GB Kindle tablet if you don't read magazine or comic usually.
I will update the recommendation of ebook at this blog in Japanese!